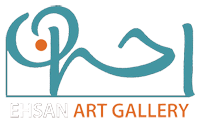 Links
Figurative painters
Figurativepainters, is an online gallery of figurative paintings and drawings included contemporary figurative painters and other famous artists works.
Mohsen Irani
Mohsen Irani's drawings and paintings.
Iran Art Site (Paygah Honar Iran)
The unique database of the art and culture of Iran. پایگاه هنر ایران
Tandis Magazine
Visual Art Specialized Magazine in Iran. دوهفته نامه تخصصی هنرهای تجسمی تندیس
Namadineh
The Analytical Iran and Global Art News Magazine پایگاه اطلاع رسانی هنرهای تجسمی نمادینه
Modern Art Expo
Permanent Modern Art Expo.
3NASL
پایگاه فرهنگی هنری و اطلاع رسانی سه نسل
Amsterdam Art Gallery
Amsterdam Art Gallery,Painting Sale And Gallery
MRart
بزرگترین مرجع اطلاع رسانی در حوزه هنر،هنرهای تجسمی و هنر های معاصر،تئاتر و سینما
Otagheabi Art Gallery
نگارخانه اتاق آبی.شهر اصفهان و یکی از نگارخانه های خوب این استان